LendNation
Installment Loans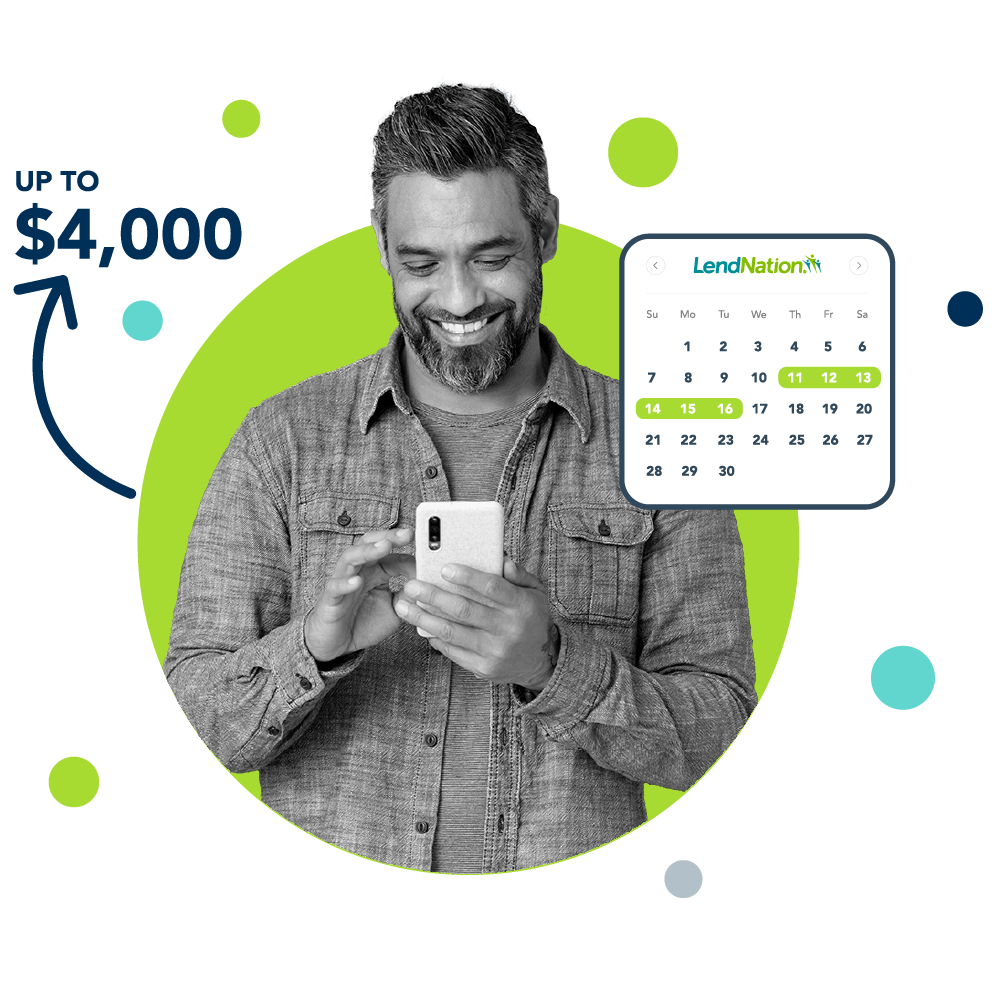 If you need to borrow a larger amount of money and want to pay it back over a longer period of time, our installment loans might be right for you! At LendNation, we offer installment loans typically ranging from $100 to $4,000, with anywhere from 6 up to 24 months to repay depending on your specific loan details. Our application process is straightforward, and our team of experts is here to guide you through the process.
How Does an Installment Loan Work? Is it different from a Payday Loan?
The main difference between an installment loan and a payday loan is that with an installment loan, you can typically borrow more money and you have longer to pay the money back. This means you can pay back the cash loan over a longer period of time, making it easier to manage your ongoing finances.
So, if you're ever in a bind and need some extra cash fast, consider an installment loan from LendNation
Benefits of LendNation Installment Loans:
Longer Payback Times
With our personal installment loans, you have the flexibility to pay back the loan amount over time through typically equal payments. The repayment period can range from several months to 2 or 3 years depending on your loan amount and contract.
You Are More Than A Credit Score
At LendNation, we don't solely rely on your credit score to make our approval decision. We also take into consideration factors such as your prior loan payment history, income and employment history. This means that you may still be eligible for an Installment Loan, even if you have a poor credit rating or a fair credit rating.
Quick Application So You Can Get Your Cash Fast
We offer a quick and easy application process you can complete in person at one of our store locations or online wherever you have access to the internet.
We provide an instant approval decision, so you find out right away if you qualify. If approved, you may receive the funds in your bank account on the same day you apply depending on your funding method.
Get a flexible installment loan today – Apply online or in-store
How Do I Apply?
You can either visit a LendNation store or apply online to get started. Our friendly team of experts is always here to assist you throughout the loan application process, answering any questions you may have and providing guidance every step of the way.
What Will I Need to Apply for an Installment Loan?
Current US-issued photo ID
Proof of income
Bank statement from within last 30 days
An active checking account
Current phone number & email address (online)
Not Quite What You Were Looking For?
LendNation offers a variety of products and services to get you the cash you need fast, easy and all in one place. You can choose from a range of simple, flexible money solutions – available both in-store and online – including title loans, lines of credit, and payday loans. With over 350 locations across the United States, LendNation is committed to serving its customers and helping them achieve financial stability.
Why LendNation?
LendNation is committed to providing its customers with fast and reliable financial assistance. The company's team of experts is available to help customers understand the details of each loan and to assist them throughout the loan process. With a variety of loan options and other financial services available, LendNation is a trusted provider of financial solutions for thousands of individuals across the United States.